SPRING 2005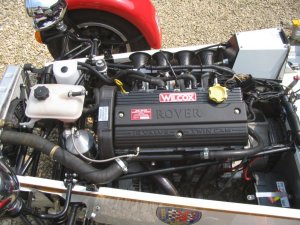 At last the big one. I finally took the plunge and agreed a rebuild/upgrade project with John Wilcox at Wilcox Competition Engines, Hinckley. Why Wilcox? Well, because they had already done some work on the car, are close to Caterham Midlands and because of their strong reputation for quality engineering and development.

So, in early March the car was delivered to Caterham Midlands who removed the engine and took it over to Hinckley. What followed was a bit of a saga mainly down to the choice of suitable ECU. We had discussed this at the start of the project and had considered most of the popular options. Taking advice from Wilcox and Caterham Midlands a number of the more obvious choices were rejected for reasons I won't go into here. Two ECUs were shortlisted - GEMS and EFI. The initial choice was to go with a GEMS ECU because Wilcox had considerable experience with this product. However, it turned out that GEMS hadn't fitted their ECU to an EU3 K series and were reluctant to undertake the work to connect their ECU to an EU3 loom. So, the decision was taken to go with EFI who supply the stock ECU to all the 2005 BTCC teams and are familiar with supporting engines from different manufacturers.

This turned out to be an excellent choice and the whole project went smoothly from here on with additional support coming from EFi specialist Ole Buhl of OBR Motorsport. The final specification is Jenvey 42mm throttle bodies, a big valve motor sport head, forged pistons, raised compression ratio and custom ITG air filter. We decided to keep the Supersports cams in the interests of driveability. An extended dyno session was required to complete a full mapping exercise including a look at the CCTV video of the event!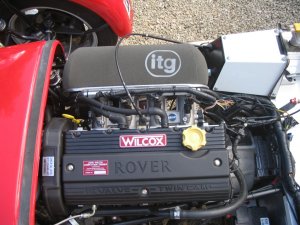 Once mapped the engine was collected by Caterham Midlands for re-installation back into S7 CSB. A new expansion tank was needed as Wilcox installed a breather in the top of the cam cover.

I don't believe most of the power figures I hear and I don't expect anyone to believe mine so I'll keep them to myself. Interestingly though, peak power and torque both occur together at 6,500 r.p.m. For this reason the soft cut rev limiter has been set at only 7,200 r.p.m which is a little lower than the standard Supersport.

As can be seen from the photos (before and after the fitting of the air filter) the engine and installation are very tidy. There is plenty of space (well its all relative isn't it?) under the bonnet without the need for a cut out and a noise test at Castle Combe gave 96.6Db at 4,500 r.p.m. The results are excellent. Idling is smooth and power delivery is even and progressive with a kick above 4,500 r.p.m. and it sounds really throaty. Remember its still a 1.6.

The carbon fibre trumpets weren't specified I should add! They are only on the engine because no aluminium ones were available at the time it was all being put together.

So, finally many thanks to John, Rita and the team at Wilcox for a fantastic job, Simon at Caterham Midlands for the re-installation and finally, Andy Jackson at ITG for an accurate custom build of the air filter and his help fitting it.

The final mod for 2005 has been the acquisition of a Freestyle Motorsport rear diffuser which Gary and Brodie reckon is worth a few mph on a reasonable straight. So far the "A" frame panel has been fitted but the rest is waiting until I can find time to cut the rear so that it doesn't extend beyond the bodywork - a silhouette regulation in most championships for road going vehicles.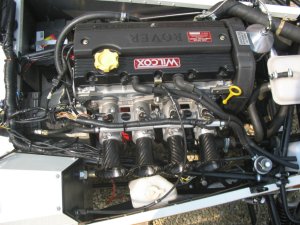 Once I finally got going in 2005 a couple of glitches have occurred. First of all the starter motor gave up the ghost at Llandow on a hot day. Actually, the same had happened to my interim car (see below) too as well as a few other cars this summer I understand. After discussing the problem with Caterham Midlands they suggested fitting a higher spec Bosch starter from the R300, R400 and R500. Simon almost got it to fit but there just isn't enough space when the 4 into 1 competition exhaust is fitted. In the end a standard unit was fitted with a small amount of heat shielding around the solenoid and a 30amp fused 'by pass fix' to the starter motor.

A couple of weeks later, returning form a short run there was a 'clonk' as if something had dropped out followed by a 'screeching' noise although he engine continued to run. On inspection a bolt was found loose in the engine bay and the noise was coming from the alternator belt. A quick visit to Millwood confirmed that the alternator adjusting bolt had fallen out and needed replacing and adjusting.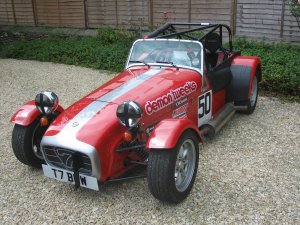 Because of the delays in getting all the work done I was in danger of missing the first half of the 2005 season. After considering a number of stopgap options (including a Striker Toyota) I did a deal with Nick Potter at Caterham Midlands for the ex Ben Shalders, 1999 Roadsport A, T7 BEW, on a 'sale and guaranteed buy back' basis. This worked very well and enabled me to mark up some decent points before getting my own car back.