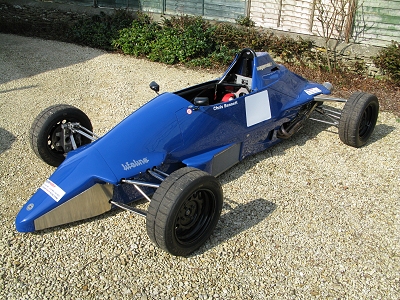 Only one change for the 2011 season and that's another blue Van Diemen! It is an RF89 (Chassis #1456) built up from largely new parts in 2010 by John Loebell of Medina Sport (the UK Van Diemen parts distributor). Wayne Poole acquired it for himself but somewhere along the way it ended up in my hands with my two previous Formula Fords being raced in 2011 by Steve (RF89) and Denise (RF88) Bracegirdle with the WPR team. The new car features a stainless downswept exhaust in place of the usual up and over Van Diemen style. This moves the weight lower and means that you can get at the spark plugs without removing the exhaust manifold!

Also new for 2011 is a shiny new Philspeed motor (the ex Tom Margetson, Championship winning lump) which produced good power and even better torque on the dyno. No excuses left now.................

Plans are similar to 2010 with the British Sprint and HSA Championships being contested. 2011 sees a couple of 'new' venues on the schedule including Snetterton and Dyrham Park. I've decided to hang on to the Caterham for a while longer for the occasional hillclimb (i.e. Dyrham) and track/test days.

The outcome of 2011 was pretty successful winning the Formula Ford class in both the HSA and British Sprint (no competitors here though) and some good results in the Caterham.

The Year:


Pre season tests - Llandow (to run in the engine) and Combe (to check set up) prior to the first Sprint at Combe in March.
March



British Sprint at Combe. Lovely day and warm weather saw a 151.31s PB, fastest FF and 5 seconds faster than 2010.
March 26th



British Sprint on the revised Silverstone Stowe track. Gearing not really right and wasn't taking enough liberties with the straw bale chicane and well beaten by Den Picket and Pete Gillett at 110.17s. Disappointing.
April 17th



MAC MIRA. Conditions not great and not much competition so only a 54.74s a second outside 2010.
May 14th



British Sprint Pembrey. Success! Gearing just right. Car & driver going really well. Won on Saturday over Picket & Gillett by 3 secs with a 119.47s; Sunday morning got under the Brirish Sprint FF record with a 118s run but couldn't repeat it in the timed runs. Still won with a 120.28s though.
June 4th & 5th



Mallory Park. A one lapper with three chicanes. Dampish and no competition so a meaningless 67.07s.
June 18th



Castle Combe - Dick Mayo sprint in the Caterham for a change. Happy with a 73.39s well behind Bob & Mike in the Striker but saw off a couple of R400s!
June 25th



Llandow. Back in the Van Diemen. Poor weather & no competitors so a 84.97s.
July 16th



Snetterton - courtesy of the Lotus 7 Club. A chance to enjoy the fantastic Snetterton 300 track in the Caterham. Great weather, great time and a super track. Brilliant!
July 19th



Three Sister. Wet and the track doesn't really suit FFs. Well beaten by Geoff Ward (who had competed there the day before) with a 50.32s although I was getting closer after 6 runs!
August 7th



Shelsley Walsh. Fanicied a return to the hills in the Caterham. Really enjoying it after a dry practice run but it rained just as each timed run began! A 39.42s but so what?
Sept 18th



Curborough. In the Caterham, just me, Colin Way and Emma Bennison. Colin stuffed it in practice and try as I might I couldn't get near Emma in her ex Bellerby Striker. A 35.31s wasn't bad and only a tad away from a PB.
October 9th



Castle Combe. Pegasus Sprint in glorious weather and a really fun day and a good battle with Tim Richardson with a 89.49s. New one full lap format worked well and third out of 7 behind Bob & Mike as usual.
Oct 15th