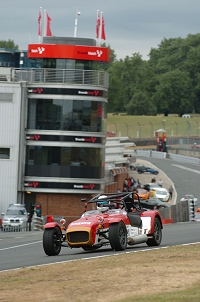 Not much new for 2010. With the introduction of grippier List 1B tyres the Caterham had a few suspension changes (springs, camber, toe) courtesy of Nigel Keats at Cougar Engineering. However, 2010 turned out to be a Sprint year, concentrating on the British Sprint and HSA Championships with the Van Diemen to the exclusion of all hillclimbs.

However, new venues were still on the agenda with a sprint at the new, lengthened Silverstone Stowe circuit and the Brands Hatch Indy circuit and an opportunity to drive the Brands Hatch GP circuit in the Caterham with the Lotus 7 club.

Although there are plenty of arguments for and against the move to stickier tyres in the kit car classes I have to say it has made the Caterham a much more satisfying car to drive on track. Having been advised to stay away from the super soft versions which only last a couple of laps I eventually went for the 2G compound Toyo 888s from the Potters at Bridge Tyres in Taunton.

A good year, winning the FF class in the HSA Championship - a first.



The Year:


Early season testing - a day at Combe in March with WPR, a day at Llandow with the HSA in April.



March



Combe - A Wayne Poole Racing test day. Cold so just getting a bit of pre season seat time. Best lap in the 1m 18s on old tyres so nothing too quick!



March 11th



Combe - The British Sprint Championship round. Cold but damp and then drying out but unfortunately a fly away gazebo rather took my mind off the event! Beaten comfortably by Martin Pickles but ahead of Dennis Picket with a best of 156.59s. Championship points.



March 27th



Silverstone Stowe. A splendid track now lengthened with a few more corners. A three way battle with Dennis Pickett and Pete Gillett. Led by a second through practice and the forst timed run so went as fast as I thought I needed to go on the final run by taking another second off but just pipped by Pete! Disappointing. Best time 113.05s



April 18th



MIRA - An HSA round with only Lindsay Summers the other FF in her VD RF80 on ACB9s. Very pleased with a 53.58s PB second run which was only about a second outside the HSA class record.



May 22nd



Goodwood - A blazing hot summer day and a a scarily fast circuit. A glorious place to be and the TWMC 2 lapper meant times well over three minutes. Only FF present so a 198.50s hard to judge.



June 26th



Llandow - Up against Pete Gillett and Charles Alexander in the FF class and came through to take a good win. Got under the HSA Class record on the third run with a 82.98s PB which was very pleasing although it didn't count as a record.



July 17th



Lydden Hill - A strange 'was it one or two events' meeting? Second to Martin Pickles by only 0.12s on Saturday but slipped to third on the Sunday after a lot of problems with wet electrics, holed exhaust and driver confidence. Great track though and a best of 83.52s



August 14/15th



Anglesey - Only other FF was Geoff Ward in his Swift SC93. With a greasy track,a holed exhaust and suspect brakes I wasn't really on it at all. Managed a 126.27 on the final Sunday run getting to within 3 secs of the Swift.



Sept 4/5th



Brands Hatch - Fabulous track in an FF and a lovely day. No other FFs but great fun and a 97.12s.



Sept 12th



Curborough 1 Lap - Only competitive outing for the year in the Caterham. Really too busy with HSA matters to concentrate properly but a good fight with Graham Boulter finishing half a second adrift, fifth out of 6. A 35.27s on 1B tyres.
October 10th