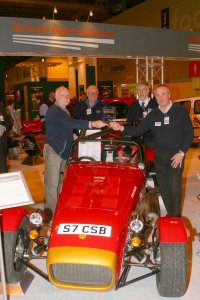 A few changes to report for 2009 with the cars. Firstly the Caterham went to Cougar Engineering, a well known Caterham and K series engine specialist, for a thorough overhaul after 7 seasons of competition. Re-built suspension, new bushes, bearings and wings along with a new Simpson cat exhaust plus one or two other mods. A Freestyle rear diffuser that had been sitting in the attic for a couple of years finally got fitted. The new wings certainly smartened tha car up and hopefully contributed to the Richard Egger Insurance stand winning the 'best national motor sport' stand at Autosport International in January. The car is pictured on the right along with some members of the HSA who were manning the stand.

Big news of the Formula Ford front was the replacement of the Van Diemen RF88 with an RF89 from Wayne Poole Racing. The RF89 (Chassis #1400) received a ground up rebuild in 2007 and was being fitted with new bodywork for 2009 so rather than spend a similar amount on the RF88 it made sense to swap to the RF89 with the more modern Hewland LD200 box and a few chassis tweaks.

The car had had an interesting and successful history. Prior to joining the Wayne Poole stable it had been owned and run successfully by Matt Rivett at Combe. It was then acquired by George from Merlin who ran it as a race hire car under the WPR banner until the team bought it in 2007. It had an exceptional year in 2008 with multiple Class wins at Combe with Olly Bull, a class with at Silverstone with Wayne driving and finally won Class C at the end of year Combe FF Carnival in the hands of Nick Jones.

2009 plans were much the same as in the preceding years with the HSA Championship being undertaken with the Caterham and the British Sprint Championship Junior Challenge (just 4 rounds) with the Van Diemen. Lost a bit of interest with the Caterham but had a good time in the Van Diemen with a few wins and narrowly missing out on the BSC Junior Challenge with a close second.



The Year:


First event of the year - the Bath Half Marathon. I got an entry but after a heavily disrupted training schedule (tooth extraction followed be weeks of appalling weather) decided to scratch from the event.



March 16th



Early season testing - my busiest March in years with a day at Combe with WPR, a day at Llandow with the HSA and a day at Curborough, with Chris Jones.



March



Combe - A Wayne Poole Racing test day and the first time out in the RF89. Couldn't get comfortable to start with (until Olly Bull suggested I tried sliding down and forward) and the pedal set up was all wrong but in the final session managed a 1m 17.38s which was my best time at Combe and suggests the 16s are within reach. Promising



March 17th



Combe - The British Sprint Championship round. Cold but dry and unfortunately the other FF didn't make it but a couple of good runs with a best of 154.85s so good Championship points.



March 28th



Loton Park. A Westfield round so plenty of friendly competition. Cold and damp but not streaming wet. Should have made third (well up on the splits) but a missed gear exiting the last corner lost me the place so ended up fourth (out of a dozen or so) with a 63.37s.



March 28th



Pembrey - The British Sprint Championship round. Cold and damp to start with. Only one practice but at least we got a timed run in before the heavens fully opened. Not really dialled in but first (out of 3 FFs entered) with a 128.75s to take the lead in the BSC Junior Challenge!



June 6th



Prescott - A 2 day meeting and the 4 runs made it seem like a lot of effort. Not my favourite way of spending a week-end. The cherries were good though! Had to mix it with the up to 2 litre runners so no chance of a result. A pretty mediocre 52.61s.



June 28th



Llandow - Decided to take the Van Diemen for a bit of competition but no other FFs turned up so a solo class win with an 85.77s



July 18th



Colerne - Back to the British Sprint. Only 3 in the up to 1600cc class but managed a win with a PB of 85.18s



August 31st



Mallory Park - First time at Mallory for a Sprint. Three FFs but in different classes. Keith Sollis was way ahead but managed to beat Dennis Pickett's Quest in the British Sprint class with an 80.04s despite a tank slapper at the Esses on the second run. Just missed out of the British Sprint Championship Junior Challenge but second place not a bad result.



September 6th



Curborough - A 1 lapper with only 3 runners. Second to John Palmer with a 37.33s but too busy with the event (the first to be run in house by the HSA for quite a while) to concentrate properly!



October 11th