At the end of the 2005 season while looking ahead to 2006 I decided to look at the possibility of a pre 1994 Formula Ford 1600 'Kent', which many of the popular Speed championships run a class for. Visits to the Combe Carnival and Silverstone WHT meetings pointed me in the direction of a Van Diemen RF88 for the main reason that, with a little narrower track than the similar RF89, it just fits onto a Brian James Minno trailer! It also fits me which apparently is an issue with later cars from the early to mid 90s.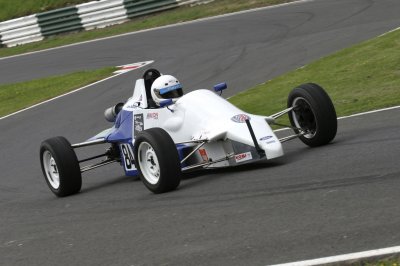 The result of all this is that I now have the ex Matthew Docherty RF88 (Chassis #1342) that has been run for the past few years by Wayne Poole Racing of Slimbridge, Gloucestershire. Wayne has been very helpful with car set up, advice and the bits & pieces needed to get on track.

The winter has been spent tidying the car up cosmetically and, as soon as the weather pemits, some track sessions. The plans for 2006 are to concentrate on the Aldon HSA Speed Championship in the Caterham and do a number of selected events with the RF88 in the Midland Speed Championship at places like MIRA, Llandow, Combe, Pembrey and so on.

2006 is also looking good as a number of exciting new venues are being introduced in both the ALDON and Midland Speed championships including Snetterton, Cadwell Park and Barkston Heath as well as visits to Olivers Mount, Werrington and Gurston which will all be new to me.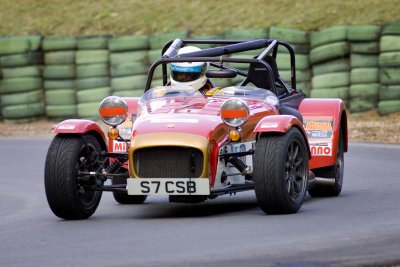 Mid Season update: With the Caterham going so well the quest for more speed continues. So at the half way point of the season its off with windscreen to be replaced with aero screens and a change to 15" wheels fitted with the de rigeur Stunner Scudos. We'll see.............

Testing again at Llandow in August with the Van Diemen but the engine went bang in a big way after a gentle trip over the kerbs. Holes and cracks in block and sump so a new motor needed before the next outing, hopefully before the end of the year.

End of season summary: Wayne has sourced a new engine for the Van Diemen but I won't be out in it again in 2006 unless we have a really mild winter. Second in class and equal fifth overall in the ALDON HSA championship in the Caterham plus wins in both cars concludes a successful season.





The Year so far:


First event of the year - Bath Half Marathon. A struggle! Bruised ribs and a disrupted training schedule meant I wasn't very well prepared. Nice day although cold. Managed a time of 1h 49m 50s in 2,016th place out of 5,993 finishers!



March 19th

First Sprint of the year - MIRA. A Class win at last! A small field but still quite competitive so after a cold and slowish practice managed to avoid any mistakes and won by a second with a 56.77s. Improved to a 55.82s in the class winners run off. A good start with 9 points in the championship. No photos unfortunately as it was MIRA!



April 22nd

Werrington Hillclimb - A very scary hill: a cattle grid covered with a metal plate between two gate posts, taken at about 90mph and a very narrow, downhill esses with no run off. Up against 8 other 1800cc class cars running stickier List 1B tyres. Initally worried that last was looking possible but later disappointed to be pipped for third by 0.2s after a 'go for it' last run which left me shaking a little! Still 43.90s seemed like a good time. Not sure if I'll be back! Leading the Championship overall though.



April 30th

Shelsley Walsh Hillclimb - Only four in class and only one timed run before the heavens opened. Second and 2.5 seconds behind Chris Jones with a PB of 35.81s. However, Shelsley was more enjoyable with the more powerful motor.



May 13th

Loton Park Hillclimb - Very wet all day so took it easy in practice some way behind Chris Jones. Narrowed the gap to 2 secs after the first run and then went for it on the second run finishing less that half a second behind Chris (with a 72.99s) in second place. Good but disappointing - still lying second overall in the championship though.



May 21st

MIRA Sprint - First event with the Van Diemen.Very wet all day apart from the first run so took it easy. 3rd out of 4, so not last and only 0.3s behind second place despite still having the occasional problem finding second gear! Best dry run a 59.88s. Good Midland Speed points though.



May 27th

Curborough Sprint - Back to the Caterham and a very hot day with a lot of fast times. Took it easy in practice going third then second fastest. Got into the 35 second bracket on the first timed run to take the lead by 0.06s despite getting 4th instead of second out of the molehill. Nailed it on the second run with a 35.66s PB to win from 5 other competitors. Good ALDON points to go back into the lead in the Championship overall!



June 11th

Cadwell Sprint - First visit to this fantastic track and in the Van Diemen. A bit daunting particularly spotting braking and apex points on such an undulating track when sitting so low. Still reasonably competitive (i.e. not last!) and close enough to those ahead of me with a 107.39s despite not taking the third and final run.



June 17th

Pembrey Sprint - In the Van Diemen again and a competitive day despite only three of us in the class. Leading after the first run ( a great 2 lapper) but just pipped by half a second by Martin Webb on the final run with a 125.84s. If I had been in the Caterham I would have pushed a bit harder but still not fully comfortable in the single seater.



July 8th

Llandow Sprint - First win in a racing car! Again only three of us in the class. Leading after the first run with a 83.71s only 1.6s off the lap record for FF cars! It was hotter for the timed runs and there was a lot of rubber on the track and times generally fell off a bit but won by 0.6s with an 84.52s.



July 15th

Goodwood Sprint - Back to the Caterham (after blowing up the FF in mid week testing at Llandow!) but only entrant in the class. This is the first time this has happened so no real incentive to push hard on this fast and scary circuit. Not driving too well either and finished with a 104.03s some half a second off my previous best.



August 19th

Cadwell Park - What a circuit! Everyone was so enthusiastic and had a great time. Once I had worked out I could take Coppice in sixth (with a lift) the times came down and I was pleased with a 98.68s less than 2 secs behind someone with 30 bhp more. Could have gone faster though - still not found the limit of grip with the Stunners. Third out of four.



September 17th

Prescott - Damp practice runs and felt uneasy on the Stunners. A reasonable 51.58s on the first run but messed up at Ettores, understeering off, meant a bothched second run. 5th out of 9.



September 23rd

Loton Park - Wet & dry all day. A comfortable third after the second dry practice but too cautious on the first wet run. The second run was dry but way too slow. Fourth out of 14 with a 65.31s sounds OK but it wasn't!



September 23rd

Curborough - Final event of the year and a fairly easy second (out of 5) with a modest 36.30s. Second in Class in the ALDON Championship and fifth equal overall. Not bad!



October 15th